Heute hat ASUS in Taipeh und Mailand das ASUS PadFone 2 vorgestellt. Es ist etwas leichter und schneller geworden. Wobei das leichter durch einen kleineren Akku erkauft wird. Wer bei den Preisen zusammenzuckt muss aber bedenken, dass man hier ein wirkliches High-End Smartphone und dazu passend ein 10,1″ Tablet.
Technische Daten Smartphone:
Android 4.0.3 Ice Cream
1,5 GHz Qualcomm Snapdragon S4 Pro APQ8064 Quad-Core Prozessor
Adreno 320 GPU
4,7″ Super IPS+ 720p Display mit 1280 x 720 Pixel
Conring Glass
2 GB RAM
16 / 32 / 64 GB interner Speicher
50 GB kostenloser ASUS Webstorage für 2 Jahre
13 Megapixel Kamera mit einem f/2.4 BSI Sensor und 1080p Videoaufnahme
1,2 Megapixel Frontkamera
WLAN 802.11 a/b/g/n
NFC
Bluetooth 4.0
LTE
GPS
137,9 x 69 x 9 mm
135 g
2140 mAh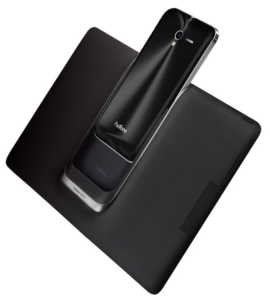 Technische Daten Tablet:
10.1″ IPS Display mit 1280 x 800 Pixel
Gorilla Glas
1 Megapixel Kamera
514 g
5000 mAh
Produktseite (Englisch): http://www.asus.com/Mobile/PadFone2/#overview
Das Asus Padfone 2 soll bei uns ab Ende Dezember in den Farben Schwarz und Weiß in den Regalen stehen. Dabei wird die 32GB Version 799 € kosten und die 64GB Ausführung 899 €.
Mich persönlich reizt dieses Ding nicht mehr wirklich. 10 Zoll ist für mich unterwegs zu groß, also würde ich es eher nur zu Hause nutzen. Aber da müsste ich jedes mal zuerst das Smartphone reinstecken und ich weiß jetzt nicht, wie das mit der Erreichbarkeit während dieser Zeit ist. Für mich ein No-Go.
Offizielle Videos:
Hands-On:
http://www.theverge.com/2012/10/16/3510622/asus-padfone-2-photos-hands-on
Pressemitteilung:
Live Life Intuitively with ASUS PadFone™ 2

Quad-core smartphone with incredible battery life and a thinner, lighter PadFone 2 Station deliver the ultimate mobile flexibility
Taipei / Ratingen, October 16th 2012

ASUS, a global leader in the new digital era, today announces PadFone™ 2. Building upon the successful PadFone combination of an Android smartphone and dockable tablet for incredible mobile flexibility, PadFone 2 consists of a higher specification quad-core, LTE-equipped smartphone and a completely redesigned tablet. ASUS Chairman Jonney Shih unveiled PadFone 2 in front of the world's media at a press conference in Milan, Italy. "Our relentless drive to innovate through our 'Design Thinking' philosophy has empowered us to create PadFone 2. It's beautiful, it's fast and, best of all, it's intuitive," said Mr. Shih.

PadFone 2 is a fully featured 4.7" Android™ smartphone with industry-leading specifications that docks with the unique PadFone 2 Station to become a lightweight, but fully featured, 10.1" tablet. Apps are seamlessly optimized on-the-fly to support both tablet and phone modes, with an instant transition between smartphone and tablet screen sizes.

ASUS' world-renowned 'Design Thinking' philosophy has significantly reduced PadFone 2 Station's thickness and weight. At just 649g, the combined weight of both PadFone 2 and PadFone 2 Station is now lighter than most tablets on the market, and the dock mechanism has been redesigned to require just one swift step to use. PadFone 2 has also been subtly refined to increase its screen size to 4.7", while reducing its thickness and weight to just 9mm at its thickest point and 135g, respectively.

Battery life is astounding, too. The higher-capacity PadFone 2 2140mAh battery provides up to 16 hours 3G talk-time and 13 hours Wi-Fi web browsing, while PadFone 2 Station's 5000mAh battery gives up to 36 hours 3G talk-time. PadFone 2 Station's internal battery also has enough capacity to recharge the docked PadFone 2 three times over

Super phone, super performance

A 1.5GHz Qualcomm Snapdragon S4 quad-core processor with 2GB of RAM ensures incredible PadFone 2 performance in both smartphone and tablet modes. The new 4.7" 1280 x 720 HD Super IPS+ display uses scratch-resistant Corning® Fit Glass and delivers sharp, detailed images with accurate colors, ultra-wide viewing angles and 550 nits brightness for stunning outdoor visibility.

A new 13-megapixel high-performance camera captures incredibly detailed images with no shutter lag. Burst mode can capture up to 100 shots at a blisteringly quick six shots per second, while simultaneously recording 1080p HD video at 30fps, or 720p HD video at 60fps. Low-light performance is also enhanced by the wide f/2.4 aperture and a dedicated image signal processor. Both PadFone 2 and PadFone 2 Station feature superlative sound quality too, thanks to ASUS SonicMaster technology and audio tuning by Waves, recipient of a Technical GRAMMY Award®.

Easy to share, easy to save

With capacities up to 64GB and 50GB of ASUS WebStorage provided free for two years, PadFone 2 offers endless possibilities for storing data. Data syncing between devices is also a thing of the past, since PadFone 2 storage is used by PadFone 2 Station when the two are connected, while NFC allows users to share webpages, Contacts and user recommendations from Play Store with others. Shared mobile data connectivity between smartphone and tablet also means just one data plan is needed for both devices, while support for up to 42Mbit/s DC-HSPA+ and 100Mbit/s LTE delivers super-fast web browsing and downloads.

User-friendly enhancements

PadFone 2 also features a new version of the SuperNote app that instantly converts handwritten notes made in multiple languages into editable text. Its Instant Translation tool also translates any word, phrase or sentence in an email, web page or app at a touch, without the need for a third-party translation tool.

Availability

PadFone 2 will be launched before the end of December in Europe (Bulgaria, Estonia, Finland, Germany, Hungary, Italy, Poland, Portugal, Romania, Spain, and Sweden) and Asia (Hong Kong, India, Japan, Malaysia, Singapore, Taiwan, Thailand, and U.A.E). Availability in other countries will be announced at a later date.